About the Paradise Village Beach Resort & Spa, Nuevo Vallarta
The Paradise Village Beach Resort and Spa is a Mayan-themed all-inclusive resort on the southern end of Nuevo Vallarta's hotel strip. It is a massive property with a mishmash of buildings on either side of its driveway, large pools, huge Mayan temple decorations, and an abundance of palm trees that give this beachside property an oasis-like vibe.
Nestled among natural lagoons, a gold sandy beach, and rich flora, the Paradise Village Beach Resort and Spa in Nuevo Vallarta offers a cozy luxurious vacation experience to its guest with a fantastic view of the ocean set as backdrop to its spacious, modern suites. Set on its own peninsula, this luxury resort offers its own complete vacation experience with modern facilities such as its very own marina, a modern business center, a golf course, a world class spa, and other modern hotel facilities.
About Villa La Estancia Beach Resort & Spa, Nuevo Vallarta
The Villa La Estancia Beach Resort and Spa is an all-inclusive luxury resort in Nuevo Vallarta. It is one of the best family-friendly luxury resorts in the area as it prides itself in the luxury service that it provides its guests with a plethora of high-class amenities, in-suite services, and outdoor activities that are sure to keep its guests relaxed, energized, and well-entertained.
Explore the vast expanse of this seaside haven and revel in the beauty of its ocean backdrop, glorious ensemble of palm trees lining up, and lush greenery all around the resort. Relax at its award-winning Tatewari Spa, dine at the various Nuevo Vallarta restaurants, or simply lounge beside its well-designed pools and bask in the warmth of the Nuevo Vallarta sun.
About Nuevo Vallarta
Nuevo Vallarta is a community of luxury villas and estates in Riviera Nayarit, Mexico. The project began over twenty years ago in an effort by the Mexican federal government to raise property value and boost tourism in the area. The property now includes canals lined with tropical gardens, private docking piers, and several beach development projects designed to preserve its ambiance and elegance.
In the area, you can find numerous luxury Nuevo Vallarta beach resorts, including the Paradise Village Beach Resort and Spa as well as the Villa La Estancia Beach Resort and Spa fronting more than 5 miles of white, sandy beach. The community also features a 3,000-slip state-of-the-art marina and Padi 1-Star Career Development Dive Center, as well as other high class facilities to cater to tourists and residents alike.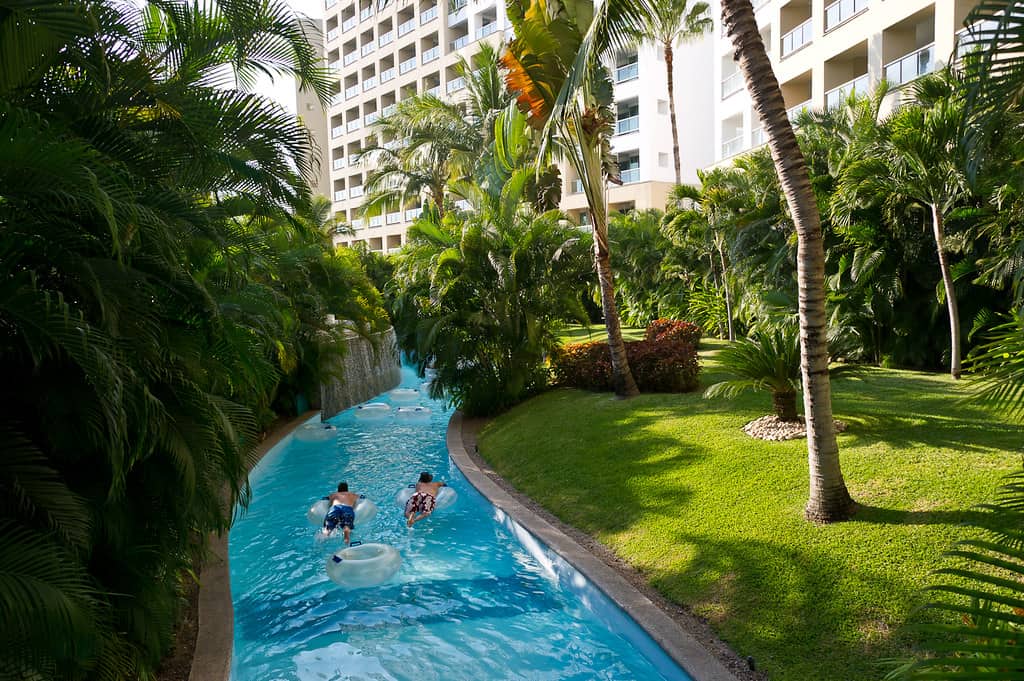 About Riviera Nayarit, Mexico
Riviera Nayarit is a tropical wonder located due east of the nation's capital, Mexico City. Nestled between the Pacific Ocean and the Western Sierra Madre Mountains, this tropical paradise offers stellar views all around with the Pacific Ocean coast and golden beaches in the west and a lovely mountain backdrop of intense skies, emerald mountains, and abundant vegetation to the east.
The best about Riviery Nayarit is its sub-humid climate, which creates an ideal environment where lush greenery beautifully covers the land surrounded by clear skies and bright rays of sunshine while also maintaining an ideal average temperature of 25°C (77°F).
Things to Do in Nuevo Vallarta and Riviera Nayarit, Mexico
Think of Nuevo Vallarta as your gateway to Riviera Nayarit. It is a lovely destination with over five kilometers (3 miles) of golden shoreline and numerous luxury Nuevo Vallarta beach resorts as your first-class accommodations. The entire community contains first class infrastructure and world-class amenities that presents a wide array of activities that you and your family can perform while on vacation – from ocean and jungle explorations to various sports that you can play to keep you busy and entertained to simple pleasures like reading a book while lounging at the beach.
Here are the top things that you can do while on vacation at Nuevo Vallarta.
Go on a Tour
The entire state of Riviera Nayarit presents so many opportunities to experience the culture and go on an adventure. There are so many things to do, so many places to visit, and so many territories to explore that it can be difficult to choose. Luckily, many businesses in the area offer themed tours where you can simply select an activity that you would like to do and they provide the destination. Here are some of the best tours you can take while on vacation at Nuevo Vallarta.
Fishing Tour
Nuevo Vallarta is the town you visit not just to have your dream vacation at a luxury Nuevo Vallarta beach resort but also when you want to have the biggest catch of your life. Really. With easy access to greater Pacific waters, Nuevo Vallarta has one of the best sport fishing scenes in the world. And with marinas so closely-located to the numerous luxury Nuevo Vallarta beach resorts, you can just as easily head down to the marina and charter a boat to take you offshore.
Just off the coast of Nuevo Vallarta, you can to world-renowned fishing hotspots where you can find Yellowfin Tuna, Marlin, Sailfish, Mahi Mahi, and many many more. This is truly the best place to go for excellent fishing.
Pirates of the Bay
Embark on a fun adventure aboard a real life pirate ship – sort of. The Pirates of the Bay cruise is one of the most popular tours in Nuevo Vallarta. It is an adult-oriented event where you get to interact and witness an authentic pirate show aboard a pirate ship as they sail along the Pacific coast. During the show, you get to witness pirates swinging from end to end, pirates singing a plethora of fun pirate songs, and pirates fighting during the Pirate Battle Royale. Enjoy an evening filled with a gourmet dinner, fantastic entertainment, and fireworks extravaganza.
City Tour
Aside from the numerous sightseeing tours around the jungles and the ocean, many companies in Nuevo Vallarta also offer tours around the city of Puerto Vallarta, just 25 minutes away from this luxury community. These city tours will focus more on the sights around the big city, its notable landmarks, and shopping. Spend a day exploring a different jungle – the urban jungle – and go shopping, tequila tasting, and see the sights Puerto Vallarta has to offer.
El Eden Canopy Tour
The El Eden Canopy Tour offers a different way to explore and see the sights around the jungles of Nuevo Vallarta and Puerto Vallarta. Glide effortlessly over the treetops of El Eden and fly high over waterfalls, forests, and the jungle with ease on over 2 miles of zip lines. Just keep in mind that this is the only way to travel during the tour – no platforms, no bridges, just zip lines.
After the tour, you can stay in the woods and swim in the waterfall pool or dine at the El Eden Jungle Restaurant. Finish the activity in style with a tour around the area and free tequila tastings.
Rhythms of the Night
The Rhythms of the Night tour is the physical embodiment of romance. Cruise around Banderas Bay with your loved one, gaze upon the beautiful sunset as the beautiful scarlet orange blankets the emerald waters, and see the lights of Puerto Vallarta glimmer from afar. After the cruise, you will be led by a torch-lit path to your private table on the beach where you can enjoy a romantic dinner while on candle light under the beautiful moonlight.
Listen to the soft, soothing sounds of the ocean as you listen to soothing music played for you and your partner. Watch the modern show in the outdoor Amphitheater after dessert and dance under the stars as you are taken back to shore. This is a romantic experience you should never do without while on vacation at Nuevo Vallarta.
San Sebastian Tour
Visit an old Spanish colonial town that dates back to 1605 on your tour around San Sebastian del Oeste. This old town used to operate as a mining center for gold and silver with over 4,000 people calling it their home. Today, the small town has just over 600 residents and is operating as a retreat where those from the city can get away from the hustle and bustle and just unwind.
The tour will take you around this little community and give you a taste of authentic Mexican culture and history. It will begin with a visit at the small village of La Estancia and will proceed towards the Sierra Madre to the cozy pueblo of San Sebastian. Here, you will be taken through a walking tour of the town where you get a chance to take photos, visit a coffee factory, and take a tour around the famous San Sebastian Church. But the best thing about his tour is in its authenticity as you eat lunch at an authentic Mexican restaurant and a local tequila factory where you get to sample famous Mexican liquors and learn how to drink them the right way.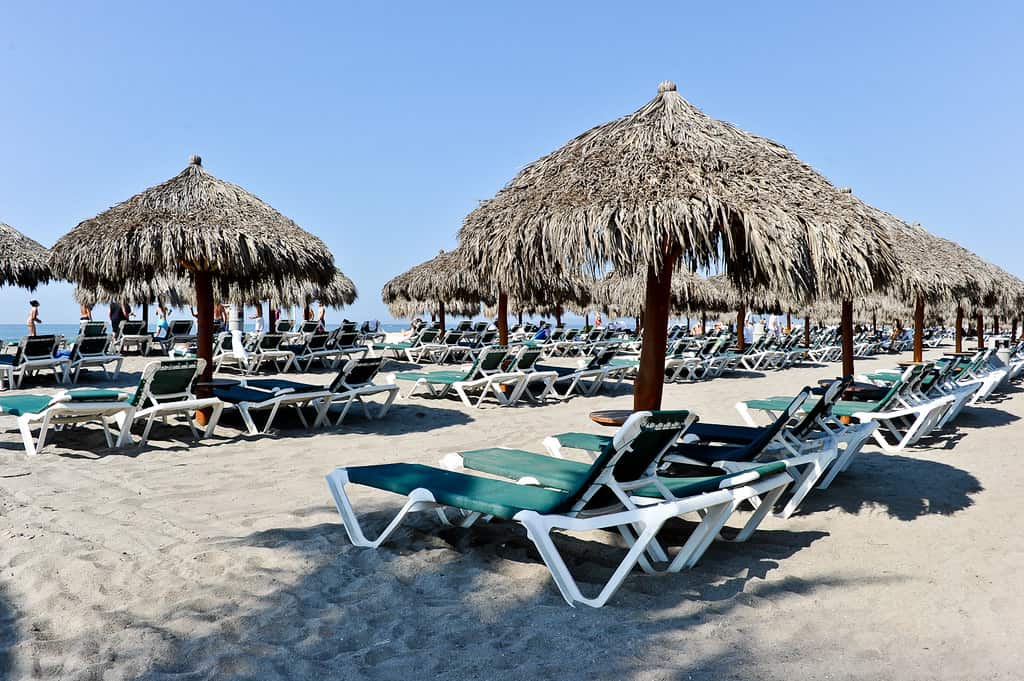 Whale Watching
Take a chance to get a close and intimate encounter with humpback whales and other marine animals during your stay at any luxury Nuevo Vallarta beach resort. Book an exclusive tour of Banderas Bay anytime from December 15 to March 31 and get a close look at these marine giants as they populate this area a few miles off the coast of Nuevo Vallarta. Witness these big blue marine giants as they splash around. And if you're lucky, you can even get to see such creatures as Sea Turtles, Manta Rays, and Bottlenose Dolphins while on the tour.
Play Golf
Nuevo Vallarta is a popular destination among golfers around the world because of its beautiful settings and award-winning, well-designed golf courses. Get the best golf experience in Nuevo Vallarta as you play nestled between the lush greenery of the Sierra Madre and the rich, crystal blue waters of the Pacific. Play in one of the award winning golf courses in Nuevo Vallarta, namely El Tigre, the Flamingos Golf Course, and the Vista Vallarta Club de Golf. You'll be coming for the sights, but staying for the experience.
Go Snorkeling
Snorkeling is one of the most favorite activities by vacationers – and for good reason. There are numerous areas within Banderas Bay where you can find active marine life. In the northwest end of Banderas Bay, for instance, lies Las Marietas – a group of 3 islands that offer a fantastic venue for snorkeling. Las Marietas has recently been named a protected marine reserve, which means the area is teeming with marine life that needs to be protected.
The area also provides sanctuary to dolphins, sea turtles, giant manta rays, numerous species of tropical fish, and wide coral reefs. You might also get to see damselfish in the area, with their dark purplish-blue bodies and bright neon blue spots. And if you're lucky enough, you might even get to see the elusive Moorish Idol with its beautiful white and yellow color with vertical black stripes.
Take your underwater exploration even further by scuba diving. There are many scuba diving companies in the area that offer scuba diving lessons for beginners and guided underwater tours for those with a little more experience.
Extreme Sports
If you want to move away from the usual tame, touristy activities, then you might want to try some extreme sports to for a little bit more excitement. Nuevo Vallarta offers a wide assortment of extreme activities that you can try for that dose of adrenaline.
Flyboarding
Fly above the waters like a dolphin in the air. As an introduction to your extreme Nuevo Vallarta experience, you have to try riding a flyboard in the ocean. If you didn't already know, a flyboard is like a skateboard or surfboard that you can ride in the water that is attached to a long hose. Strong, pressurized jets of water is released on the bottom of the board, which allows you to fly a few meters above the water. The activity may look extremely wild, but it is actually quite easy to learn and control.
Enjoy the adrenaline rush as you feel the lift of the board as you begin to rise above the water. Change the direction of the board a little bit and you'll find yourself flying through the air. Feeling a little more extreme? Get ready to have your heart thumping with excitement as you perform somersaults in the air as well as other tricks.
Surfing
A trip to Mexico isn't complete without a day of surfing. The Bay of Banderas is home to several surf breaks where novice and experienced surfers alike can go and ride the waves. Burros, Destilladeros, Pool, and Veneros are among the best places for novice surfers to practice riding the waves while those looking for more challenging waves can go the northwestern tip of the bay known as Punta Mita. Surfing breaks near the area include El Faro, Coral, and La Lancha.
Wild ATV Rides
Explore the jungles near the Sierra Madre in style while you ride on an all-terrain vehicle (ATV). Ride solo or with a partner, take in the sights, and feel the breeze as you cycle through the jungle. If you don't feel like driving, you can also book a private ATV tour around the jungle so you can just focus on enjoying the moment.
About the Luxury Stay
The certificate is valid for a reservation request offering two adults and up to 2 children under the age of 12, 5 nights of Luxurious Resort Accommodations in your choice of either Cancún, Puerto Vallarta, Nuevo Vallarta, Mazatlan, Acapulco, or Puerto Penasco, Mexico. Upgrade options are available to use in Cabo San Lucas. At least one of the travelers needs to be over the age of 21 years of age.