About Puerto Peñasco, Mexico
Puerto Peñasco, also known as Rocky Point, is a resort town nestled right between the Sonora Desert and the Sea of Cortez northwest of the Mexican province of Sonora. It is located just 60 miles southwest of the United States-Mexico border near Arizona and is considered to be one of Mexico's premier destinations for tourists.
Puerto Peñasco has been dubbed as Arizona's Beach due to its proximity to Phoenix, Tucson, and Yuma. It was once a small, quiet fishing town in Northern Mexico but has since boomed in tourism over the past decade and transformed into the tourist powerhouse it is now being home to a plethora of outdoor activities, numerous Canadian and US expats, and several luxury Puerto Peñasco Beach Resorts.
Puerto Peñasco is truly a haven for tourists. As a premier location for several sandy beach resorts, Puerto Peñasco offers numerous adventures and activities like snorkeling and scuba diving that you are sure to love during your vacation. If you're looking for something more tame, there are also numerous activities such as bird watching and whale watching that are just perfect for you.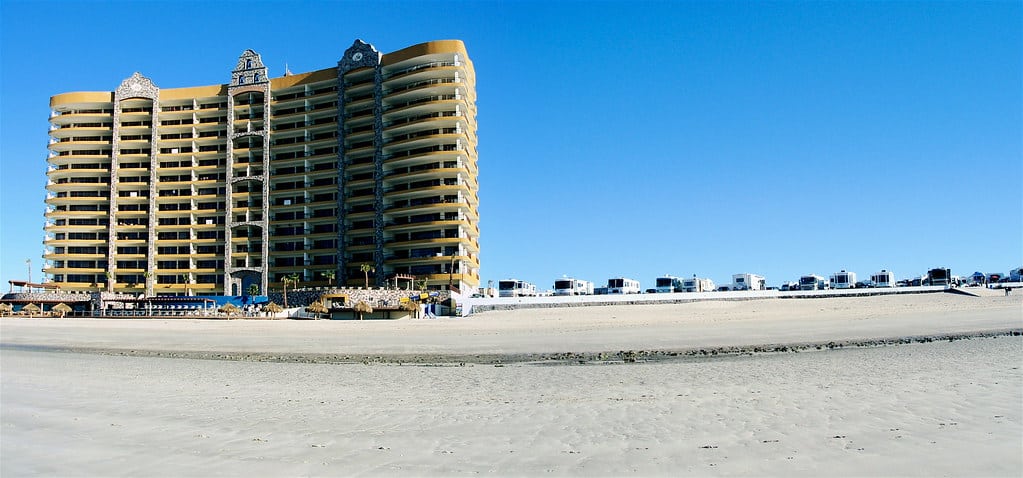 Top Luxury Hotels in Puerto Peñasco
Puerto Peñasco isn't known as a premier resort town for nothing. It is home to numerous luxury resorts and hotels. Here is a list of the top luxury hotels in the area.
Esmeralda Luxury Resort
The Esmeralda Luxury Resort is the premier five-star luxury vacation destination in Puerto Peñasco. The resort offers five-star condominiums designed to complement the picturesque views of the Sea of Cortez with its blue glass windows and modern architecture.
This luxury resort is located right on the white sand beaches of Puerto Peñasco, Mexico and is a prime location to give you the luxury vacation you've always dreamed about at Rocky Point. The property boasts modern amenities such as beautiful swimming pools, relaxing palapas, poolside bars, a private beach, and exclusive access to Puerto Peñasco's best beach activities – all designed to give you memories that you will cherish forever.
Las Palomas Beach & Golf Resort
The Las Palomas Beach & Golf Resort is truly a one-of-a-kind experience. This luxury Puerto Peñasco beach resort boasts a combination of luxury and timeless tranquility with its stunning waterfront located right along the Sea of Cortez. This Puerto Peñasco beach resort has a 4-Diamond rating from the AAA – a testament to its prime location and elegance.
The Las Palomas Beach & Golf Resort offers a beautiful paradox in that it blends the classic with the contemporary, which has resulted in its reputation as a modern oasis for those seeking peace and tranquility while offer loads of excitement for its guests.
As a luxury beach resort in Puerto Peñasco, the accommodations at Las Palomas are luxurious condominiums that offer a stunning view of the sparkling ocean with their own terrace or balcony. But beyond the rooms, Las Palomas has so much more to offer with its professional 18-hole, Par 72 golf course called The Links, gorgeous courtyards with infinity edge pools, and other word-class amenities.
Peñasco Del Sol Hotel
Peñasco Del Sol Hotel and Conference Center is a 3-diamond hotel in Puerto Peñasco that offers the best value among hotels in the downtown area. Its prime location near the sandy shores of the Sea of Cortez offers hotel guests a picturesque view of the entire ocean with a gorgeous backdrop of sand dunes and different beaches.
This sandy beach resort in Puerto Peñasco offers 208 stylish and elegant accommodations with each offering wide spaces handsomely furnished with top quality furniture and with a relaxing view of the ocean as its cherry on top.
The Peñasco Del Sol beautifully captures the essence of what a luxury tropical paradise should be – beautiful ambiance, a stunning oceanic view, and modern amenities.
The Grand Mayan Puerto Peñasco
The Grand Mayan Puerto Peñasco provides a lovely escape to a unique paradise of luxury with its exquisite natural views of the Sea of Cortez in this little oasis by the sandy shores. This Puerto Peñasco luxury resort provides its guests with a sanctuary of rest and relaxation all around with its many amenities – from glorious indoor and outdoor pools to it numerous outdoor activities like tennis and golf.
The accommodations at the Grand Mayan are expertly designed to give you maximum comfort during your stay. It provides you with numerous dining and entertainment options so your stay at this beautiful sandy beach resort at Puerto Peñasco is one you won't ever forget.
Bella Sirena
The Bella Sirena Resort is a premier luxury resort in Puerto Peñasco that is located right on the beachfront. It is famed for its luxurious surroundings and elegance as it provides a high-quality resort-style atmosphere and service. As soon as you enter the resort, you will be greeted with its exotic landscaping that truly enhances the beauty of its surroundings. Across the entire resort, you will find an assortment of infinity pools overlooking the ocean that provides the finishing touch to the elegance it aims to emulate.
Each unit at the Bella Sirena offers a panoramic view of the Sea of Cortez and its sandy desert backdrop that makes Puerto Peñasco a true escape into wilderness.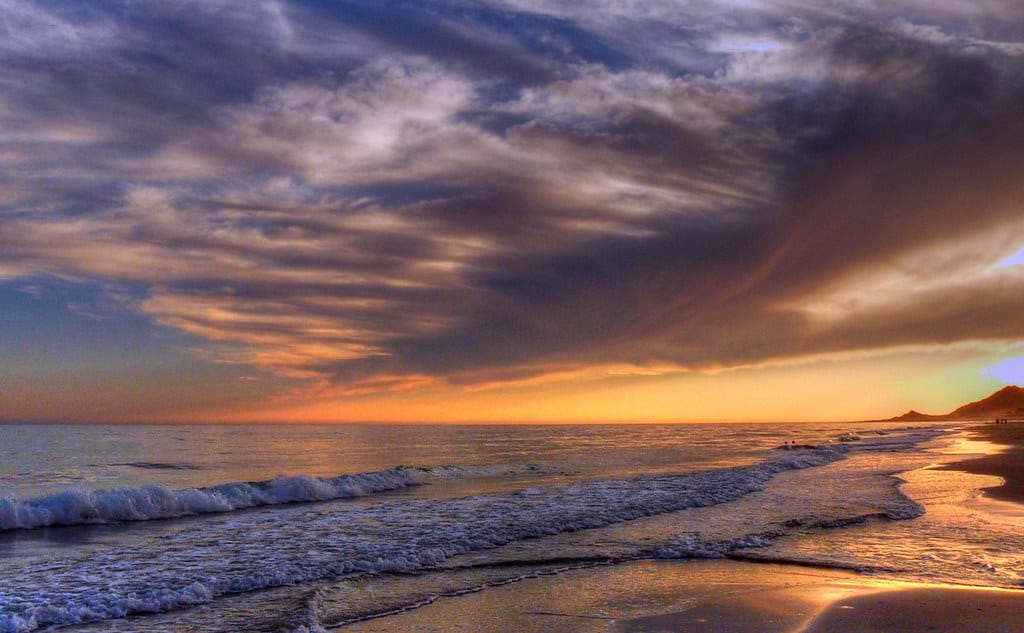 Top Things to Do at Puerto Peñasco
Puerto Peñasco is a premier seaside destination famed for its natural beauty and the plethora of fun water activities you can do while on holiday. But aside from the beach, there are numerous ways you can enjoy your luxury stay at Puerto Peñasco. Look through the list below to see what's in store for you at Puerto Peñasco.
Lounge Around at Playa Arenosa
Puerto Peñasco is sometimes referred to as Arizona Beach due to its proximity to the US state of Arizona. It has been blessed with miles of beautiful coastline in which guests can just sit around and admire the crystal blue waters of the ocean.
Perhaps the most popular stretches of shoreline in Puerto Peñasco can be found at Playa Arenosa. Directly translating to "sandy beach", Playa Arenosa is a long stretch of golden sand that passes through the city's major resorts. Its serene atmosphere provides the perfect avenue for you to just lay in the sand and lounge around at the beach. It also provides a perfect space for families to enjoy the golden sands of the beach for building sand castles, playing beach sports like throwing Frisbees or playing volleyball, or leisurely swimming in the crystal blue waters.
But be sure to explore other beautiful beaches such as the Playa Bonita, Las Conchas, Tucson Beach, and the El Mirador Beach.
Go Snorkeling at the Sea of Cortez
While the Mexican side of the Caribbean may arguably have the best snorkeling in Mexico, Puerto Peñasco can certainly give it a run for its money with the Sea of Cortez, popularly nicknamed the world's aquarium by the explore Jacques Cousteau. Its pristine waters is home to the world's most fascinating wildlife just waiting for you to explore and experience while snorkeling, or even go scuba diving for a more up close and personal encounter.
Explore the Malecón
A Malecón is an esplanade, or stone-built embankment, located on near the shoreline and is always a popular spot for tourists at beach towns. The Malecón at Puerto Peñasco is certainly no exception as it offers tourists a splendid view of the Sea of Cortez while also offering the best food, sights, and entertainment Puerto Peñasco has to offer.
Take a stroll along the Malecón and witness the statuary of local notables and the vast expanse of modern sculptures near the beach. Snap a picture with the ever-colorful Puerto Peñasco sign and make it a memory to remember. Experience the food and culture as you visit countless shops and restaurants along the Malecón.
Try Paddleboarding
While snorkeling and scuba diving are certainly the more popular water activities at Puerto Peñasco, they are certainly not the only way to enjoy its beautiful waters. For a more challenging yet fun-filled water exploration activity, Paddleboarding is one that you should definitely give a go. Improve your balance while navigating the waters of the Sea of Cortez atop your paddleboard. You can practice on your own, or sign up to a class. You can rent Paddleboarding equipment on the beach.
Play Golf
While it's certainly not what you'd expect from a beach town, but Puerto Peñasco is actually home to some of the world's best golf courses. Book a day pass and enjoy a relaxing day at the golf course in any one of these golf courses.
Nicklaus Design Course at Puerto Peñasco
The Nicklaus Design Course at the Mayan Palace is certainly one golf course that you should definitely check out. This 18-hole par 72 course is over 7,100 yards in length and was designed by Jack Nicklaus himself and his son, Jack Nicklaus II. Over the entire course, you will be met with picturesque views of the ocean, splendid fairways, and native desert vegetation, creating a nice, challenging, yet serene atmosphere to play one of the most relaxing sports in the world.
The Links at Las Palomas Golf Club
The Links at the Las Palomas Resort features an 18-hole, 72-par course designed by golf course architects Forrest Richards and Arthur Jack Snyder. This course is a world-class championship course that features stunning landscapes sculpted by the wind, various sand dunes, and tides from the Sea of Cortez offering a beautiful backdrop to your game of golf.
The Club at Laguna Del Mar
The Club at Laguna Del Mar is one of the newer golf courses in the area and is another Jack Nicklaus signature golf course. As of the moment, it only features 9 holes guarded by saltwater lagoons and the Sea of Cortez. But the other 9 holes are already under construction and are well on their way to making this world-class golf course a complete experience.
Go on a Nature Trip
No trip to Puerto Peñasco is complete without taking a nature trip to explore what surround area has to offer in terms of terrestrial and aquatic wildlife as well as the vegetation that thrives in the desert that sustain the wildlife. Here are some ways to enjoy nature at Puerto Peñasco.
Do an Eco Tour with CEDO
The Centro Intercultural de Estudios Desiertos y Oceanos (CEDO), or the Intercultural Center for the Study of Deserts and Oceans, is an authority when it comes to wildlife and is perfect for arid areas that feature both oceans and deserts, such as Puerto Peñasco. Aside from running summer camps and programs designed to cultivate awareness towards the surrounding deserts and oceans, the organization also offers tours with bilingual guides for easier communication.
Go Bird Watching
Little known fact about Puerto Peñasco is that it is home to a diverse species of birds that reside on the aptly named Bird Island, the Isla San Jorge. You can also head to the Estero de Morua to watch another set of winged animals residing on the island. Watch out for various herons, boobies, and other exotic birds.
Explore a UNESCO World Heritage Site
Just outside Puerto Peñasco lies a UNESCO World Heritage Site known as the El Pinacate and Gran Desierto de Altar Biosphere Reserve. The area is made up entirely of sand, shifting dune fields, and volcanic craters that make this region a true sight to behold and is one of the best things you can in Puerto Peñasco.
Take a Whale Watching Tour
As the world's aquarium, the Sea of Cortez contains a large population of marine wildlife just waiting to be explored. Animal lovers will certainly jump at the chance to go whale watching during the month of February until Mid-May. There are already many companies that offer this tour so better do a little shopping around first before making a decision.
Listen to Mexican Jazz
One of the best ways to take in a place's culture is through their music. As you explore the Puerto Peñasco area at night, be sure to explore the city's music scene. With such wonderful jazz music being played at numerous bars and restaurants in the city. Remember, good food paired with fine wines and exquisite music can transform your night from meh to wow in the snap of a finger.
Go Tequila Tasting
While Puerto Peñasco isn't quite known for its tequila manufacture, there are still many establishments that offer tequila tasting as a fun activity. One such establishment is The Tequila Factory, offering 100% blue agave with six different tequila variants to taste: blanco, reposado, triple distilled, anejo, antiguo, and gold, as well as a wide assortment of flavored tequilas all for you to try. But be sure to hire a driver beforehand to make sure you can get home to your hotel.
Drive Around in an ATV
One of the more popular activities while in Puerto Peñasco is driving an ATV across town and the desert that surrounds it. Be sure to try it while in Puerto Peñasco to capitalize on the sandy features of the town. There are numerous ATV rental shops in the area where you can rent your vehicle for the duration of your stay.
Take a Sunset Cruise
With such a stunning view of the ocean, Puerto Peñasco is no stranger to picturesque scenery. It is famed for its beautiful sunsets where the beautiful scarlet hue blankets the twilight sky and is reflected by its crystal clear waters – a scene that is difficult to capture using only mere words. For such a case, it's best that you witness the sight yourself aboard a catamaran. Enjoy the picturesque sunset at sea with a margarita or mai tai in hand and brace yourself for the beauty waiting for you to behold as the day breaks. Who knows, you might see some dolphins to cap off the entire ride.
About the Complimentary Stay
The certificate is valid for a reservation request offering two adults and up to 2 children under the age of 12, 5 nights of Luxurious Resort Accommodations in your choice of either Cancún, Puerto Vallarta, Nuevo Vallarta, Mazatlan, Acapulco, or Puerto Penasco, Mexico. Upgrade options are available to use in Cabo San Lucas. At least one of the travelers needs to be over the age of 21 years of age.