About Westgate Lakes Resort and Spa
Westgate Lakes Resort and Spa in Orlando Florida is a premier luxury resort located right in the heart of theme park country. Located just a few miles from Sea World Orlando, Universal Orlando Resort, Walt Disney World, and many other theme parks in the area, consider Westgate as your gateway to the country's top attractions.
Westgate provides its guests with all the comforts of a luxurious home with its accommodations ranging from spacious studios to its large, four-bedroom villas. With its prime location in the midst of all the top attractions in the city, visiting these attractions are just minutes away. But with a plethora of amenities and attractions available onsite, there is something in store for just about anyone at Westgate Lakes, Orlando.
About Orlando, Florida
Orlando City, Florida is widely considered as one of the best places to visit for families due to its abundance of various forms of family entertainment such as themed luxury resorts, theme parks, and other attractions. But aside from its illustrious themed attractions, Orlando is also known for its vibrant and well-maintained city center with so much more to offer than just its theme parks.
With a climate that averages around just 25° C (75° F) per year, Orlando welcomes millions of visitors each year, each planning to visit one of the major theme parks in the city. However, it would be a great mistake if you miss out on all the offer things Orlando has to offer in terms of family-friendly attractions like waterparks, giant aquariums, zoos, airboat tours around the swamp, and exciting shows as well as a slew of golfing opportunities.
Things to Do and Places to Explore in Orlando
There is no shortage of fun-filled activities during your complimentary stay at Westgate Lakes Resort and Spa, Orlando. Whether you want to spend a day relaxing inside the resort, or make the most of the trip and visit one of the many theme parks found in the city, there will always be something for you.
Here are just a few things you can do in Orlando.
On-Site Activities at Westgate Lakes Orlando
Westgate Lakes, Orlando offers the complete resort experience to its guests. Despite its proximity to numerous theme parks and attractions, it happily provides a plethora of world-class amenities and attractions of its own to its guests so they can also have as much fun as they can during their stay at the resort.
Rent a Boat and Explore the Lake
Behind this luxury resort lies its own scenic lake where guests can enjoy numerous outdoor recreational activities such as paddleboating, pontoon boating, and kayaking. Each boat can be rented for up to an hour at the lakeside arena so you can spend time having fun while paddling, seeing the sites, or to just chill and lounge around while on the water.
Go Fishing
Whether you're a professional angler or a newbie, you can be sure that you will have a good time casting a line and reeling in the catch of the day while cruising through our scenic lake. All you need to have a good time is a boat and a rod with reels, which you can easily rent at the Marina.
Mission Control Game Room
This one is definitely for the kids, but who says adults can't also have fun at the game room? The game room offers a wide range of classic and contemporary games so there's something for everybody.
Pirates Mini Golf
Have a blast playing with friends or family at Pirates Mini Golf at Westgate Lakes. This lovely 18-hole course is sure to bring a smile to your face as you face entertaining obstacles and challenges on your way to the final hole. Experience the best mini golf you can play at Westgate Lakes, Orlando.
Play Some Casual Games
Feeling a little competitive? Why not grab your friend so you can play some casual competitive games with them such as shuffleboarding and throwing horseshoes. Play a relaxing game of shuffleboard at the shuffleboard court near the Pelican's Landing Pool.
Water Park
Aside from its proximity to various theme and waterparks, Westgate Lakes, Orlando also has its own state-of-the-art water park in its premises. The water park is located in the southwest corner of the resort property just in front of the boardwalk that leads to Sunset Key Island.
Heated Outdoor Pools and Spa Tubs
Don't forget to make a splash. Bask in the warmth of the Orlando sun and have all the fun you can have. Westgate Lakes Resort, Orlando is home to multiple heated pools, spa tubs, and poolside bars that offer made-to-order cocktails and light food options so you can have fun in the pool's lovely waters no matter the time of day.
Serenity Spa by Westgate
One of the best ways to enjoy a complimentary luxury hotel and resort stay is by pampering yourself with a day spent at Serenity Spa, a world-class spa facility inside Westgate Lakes. Serenity offers you a wide assortment of ways to relax, indulge, and rejuvenate with its wide range of spa services and products, so you can simply rest while somebody else pampers you into relaxation.
Visit the Theme Parks
One of the main reasons why many visitors come to Orlando is to spend a day and have a blast at one of the many theme parks in the area. And with so many options available, selecting one is no small feat.
Universal Studios Resort
The Universal Studio Resort is a legendary theme park that has absolutely everything that you could really ever ask for – from wizards and witches to dinosaurs to Marvel superheroes in many shapes and sizes. As you spend a day in the park, you will find that there is something available for just about anyone. It's great for families whether you're a kid, a father, a grandmother, a film fan, a geek, a casual fan, and everything in between, you are sure to have a blast.
Walt Disney World Resort
A theme park that really needs no introduction, its massive collection of four theme parks and two water parks is what is collectively known as the happiest place on earth. And, of course, we are inclined to believe them. With so many attractions, rides, and familiar characters roaming around the park, every child is sure to have a blast, and each parent will know what it feels like to be a kid again.
Seaworld
Seaworld is a theme park and a marine zoological park in Orlando, Florida. It is widely known for its shows that feature well-trained animals such as dolphins, orcas, and sea lions while performing various tricks. There are also numerous marine-themed rides available that you can enjoy while waiting for the next show to start.
Gatorland
Gatorland is not your typical theme park. It was first established as a wildlife preserve and has now also become a theme park that offers its visitors the opportunity to wrestle with an alligator. Sounds fun, right? But you really shouldn't try this at home. But if you're not up for some gator wrestling, there are still plenty of things that you can do, such as the Screamin' Gator Zip Line where you get to ride high over the park's Nile crocodiles. There's also the Trainer-for-a-Day program where, you guessed it, you get the opportunity to become trainer for a day and spend time feeding baby alligators, among others.
Legoland
Who doesn't love Legos? Any kid, or used to be a kid, who has built something using Legos is sure to have a blast at Legoland Florida Resort Theme Park. With more than 50 Lego-themed attractions to choose from spread out over 14 distinct lands, kids of all ages and sizes are sure to have a blast. Ride the rollercoaster, compete against friends, and meet your favorite Lego Movie characters. You're in for a fun-filled day at Legoland.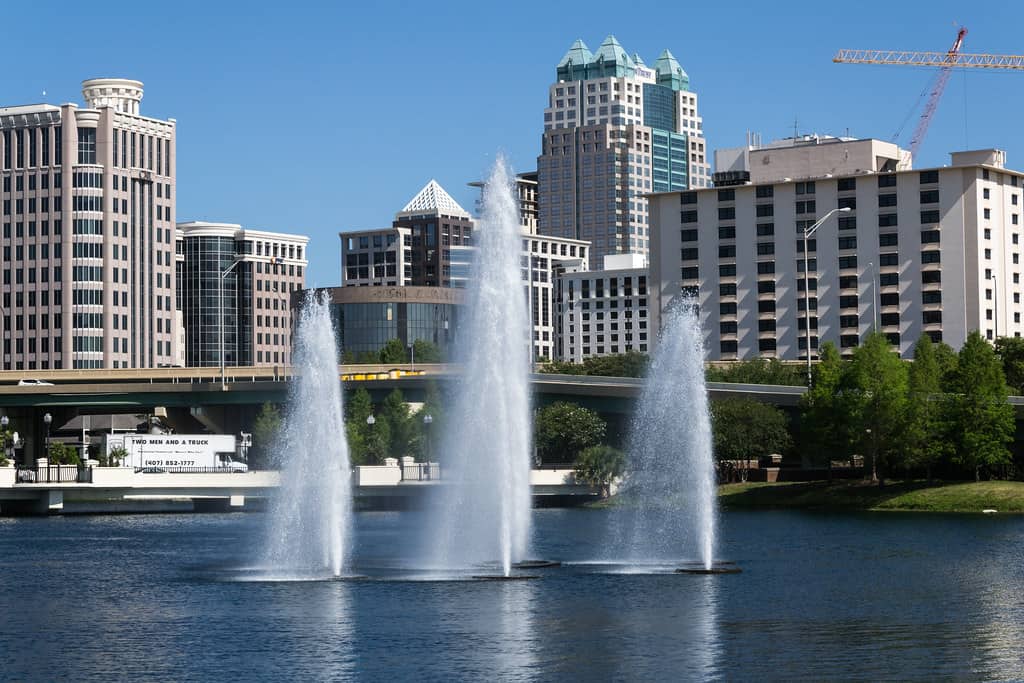 See Other City Attractions
Of course, there are still many attractions that you have to see while on vacation at Orlando aside from the mainstream theme parks that abound the area. Here are some of the top attractions that you should definitely check during your complimentary stay at Westgate Lakes and Spa, Orlando.
ICON Orlando
The ICON Orlando is one of the most iconic attractions within the city. Standing at 400 ft, ICON is easily the highest observation wheel not just in Orlando, but also in the entire east coast. Indulge your senses and feel the rush of adrenaline as you ride one of the air-conditioned pods and gaze upon the beautiful Floridian skyline. And with a 360-degree unadulterated view of the skyline, this ride is perfect for that romantic moment you always wanted to have. The best time to go would be just before sunset so you can gaze upon the sunset with your loved one in your very own private pod.
Kennedy Space Center Visitor Complex
The Kennedy Space Center Visitor Complex gives its guests the opportunity to experience what it's like to be an astronaut, without actually having to go to space, of course. The activities offered at the complex gives you quite the realistic sense of what life is like in outer space. It gives you quite the authentic experience with exhibits that feature augmented reality and Star Wars-style holograms. It even includes Shuttle Launch Experience, which allows you to feel what it feels like to be launched into space but outside of a working rocket.
Orlando Museum of Art
If you feel like experience culture through art, then you might want to drop by the Orlando Museum of Art. The museum is filled with a wonderfully-curated exhibit of various collections, which including African art, contemporary art pieces, and the outstanding "Art of the Ancient Americas" collection. The museum was founded in 1924 as a way of letting the public learn and experience what art truly is. Today, the museum is one of Orlando's cultural institutions.
Discovery Cove
While technically also a part of Seaworld, Discovery Cove lies adjacent to the theme park but likes to operate away from all the fanfare and focus on the essentials, namely interacting with the animals. You can book the Cove so you can swim with bottlenose dolphins, snorkel with stingrays, and feed exotic birds from your own hands.
Basilica of the National Shrine of Mary, Queen of the Universe
The Basilica was originally built as a way to serve the large influx of Catholic tourists coming in to spend a day at Walt Disney World in the 1970s. Today, even non-religious tourists make a detour just to go see the basilica to admire the spectacle that is its architecture and the various religious art pieces displayed inside.
Dine In Style
No trip is complete without a taste of the local food scene. Go gastronomic at any of these local restaurants and take in the culture of Orlando.
Morimoto Asia
Morimoto Asia is a restaurant that was made popular due to it being the signature establishment from TV's Iron Chef, Masaharu Morimoto. Treat your senses with a slap-up meal at one of the finest Pan-Am restaurants in the US. Chill in the cocktail lounge and grab a martini while you wait to be seated near the exhibition kitchen, where you can watch the chefs prepare dim sum and carve Peking duck. This spectacular two-level space is one of the hottest reservation places in the city so you better get there early or call in before coming to make sure you can get a seat.
Winter Park
Just a short drive north of Orlando lies Winter Park, a hotbed of independent retailers and world-class restaurants. While Winter Park has been known for its shopping scene with over 140 shops and boutiques spread across 10 blocks of oak-lined avenue, its food scene is also something that you should never miss. Take a break from shopping and dine in one of the top restaurants in the area, which include Prato and the Ravenous Pig.
About the Complimentary Stay
The certificate is valid for a reservation request offering 3 nights of Luxurious Resort Accommodations in your choice of either Orlando or Las Vegas. These rooms are for up to 4 occupants and at least one occupant must be at least 21 years of age.